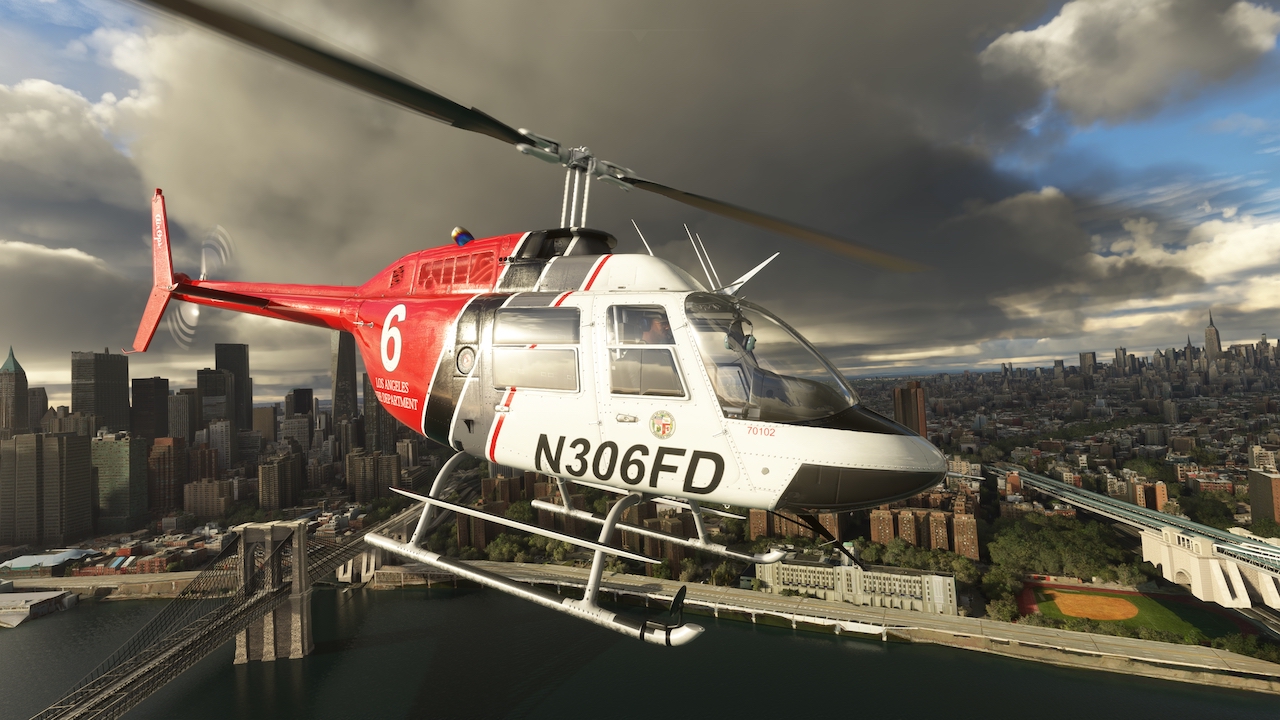 Changelog
v1.0.2:
– ADF needle is now working in GPS mode
– Beacon light fixed and some other lighting tweaks
– Radar altimeter fixed: tone and light when decision height is reached and fully functional
– Now able to hide the headsets individually
– Headset roll animations
– Added option for female pilot: Select through "MSFS General Options" then "MISC". Select "Pilot 2" for female OR "Pilot 1" for male.
– New copilot model added. Activate in "Weight and Balance" settings by adding 100+ to copilot weight.
– Added down wash effects: dust/sand/dirt/water
– Several flight model tweaks
– HSI slave/free flux gate switch that was missing was added along with full functionality and indicator animation.
– Smoothed out jagged edges on modeling: center window column, switches, door seals and frames, windows and many other parts.
– Added missing sounds for the G430 and other small things
– New camera settings provided by BelGeode (Drew Bolton) – Thanks!
– Updated several textures and fine details with PBR
– Got the trim ball working but still a little off. For some reason the default code does not like helicopters much.
– Known issues:
– Still need needle split for RPM N2 and Nr
– When full sun and at certain angles pixelated shadows may appear
– TOT not simulating correctly. Slow rise on start and incorrect values when running.
– Hardware throttle impossible to turn of governor after triggered, this prevents rolling down the throttle with hardware after the governor kicks in. You have to use a mouse or VR controller by rolling to max and then rolling down. This is top of the list to get fixed with the next update. Thankfully we don't fly with the throttle in helicopters, that is what the governor is for. But this is still important to us and will be fixed immediately after a solution is found.

Description
There is a start up checklist located in the main folder to get you going from cold and dark start. You can also access options, like the passengers and more, from the weight and balance window.
Due to limitations of the sim right now, you will have to use a mouse or VR controller for the throttle. Hardware bindings will be updated by Asobo and we will implement the code in an update after that. There is also a bug with the turn coordinator ball but that will be fixed soon.
Features:
• Detailed Paint Kit
• Tested and Zeroed in by Real Pilots
• Realistic start up procedure
• SAS & Autopilot (when AP for helicopters is available)
• Pilots & Passengers
• Floats
• 75 Paint Jobs (liveries)
• Dynamic Weight Options
• Spot Light (will be functional is later update)
• Spray Kit (will be functional is later update)
• Cineflex Camera (will be functional is later update)
• Wwsie Fully Dynamic Sound Pack
• Virtual Reality Ready
• Realistic Flight Dynamics
• 4K PBR Textures
• Custom 3D instruments
• Detailed Night Lighting