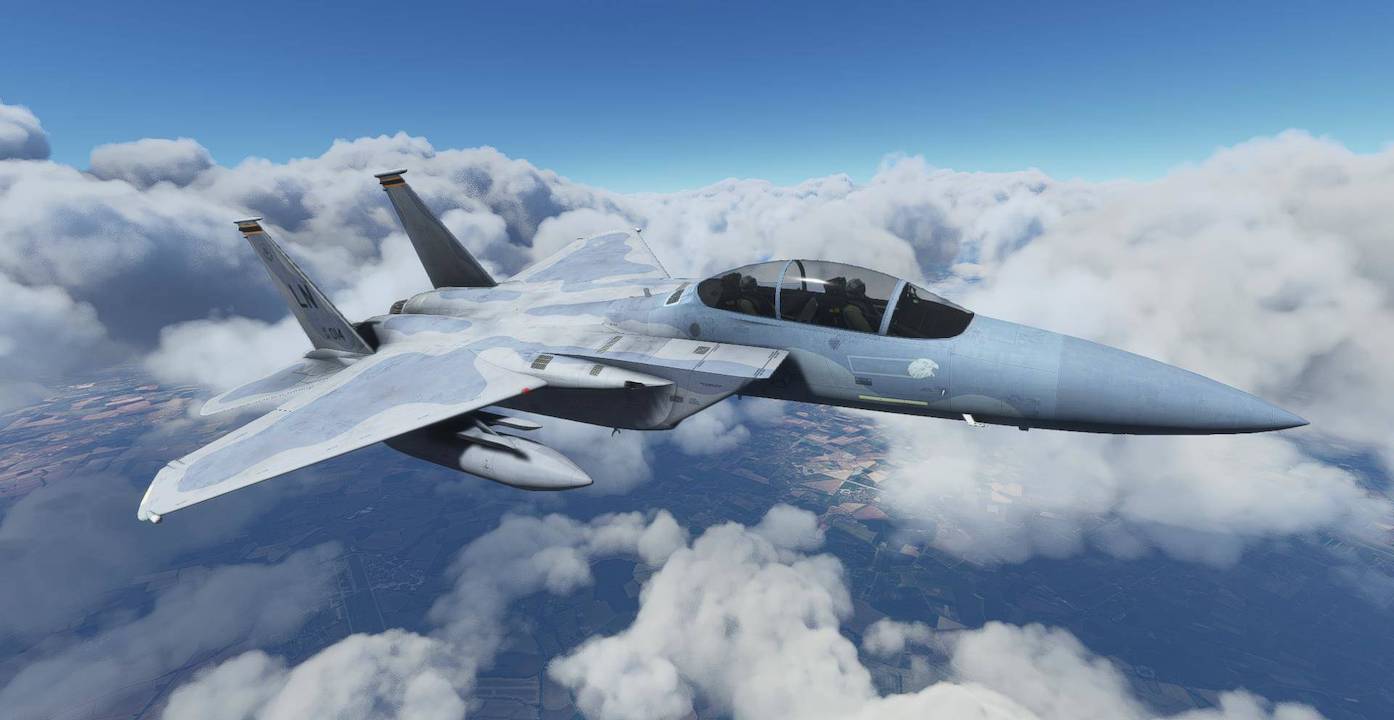 Changelog
v1.5.0:
– Improved external lightning, Landing/taxi, Nav, Formation and Strobes.
– Taxi Light Switch fixed
– External lights switches transitioned to knobs.
– Fixed overall animations for stabilators, ailerons and Flaps. Now all the surfaces deflections match their angles.
– Flight model revised: improved manoeuvrability at low airspeeds to resemble the Conical Wing camber of the real airplane. 
– HUD: Added SPD BK OUT Warning.
– Cockpit: Revised all switches and sounds.
– Checklist Updated: special credits to DamxusAwe for the work done!
v1.4.0:
– Fuel System: 
– Fixed an issue that prevented Center External Tank to empty if any other external tank was empty.
– Implemented correctly stop refuel behaviour, which mean, if any of the ext tanks switches (wings/center) or conformal tank switch are positioned in stop refuel, they won't longer be refueled when the refuel switch is active. If all of them are in STOP transfer, only the fuselage tanks will be refueled.

Description
DC Designs are proud to announce their first aircraft collection for Microsoft Flight Simulator! This F-15 Eagle package includes four highly detailed MSFS models: the F-15C, D, E and I 'Ra'am' Eagles.
Fully native MSFS aircraft:
• All models have been coded with Microsoft Flight Simulator native 'Model Behaviors' animations and built to MSFS operational specifications to prevent issues with future simulator upgrades.
• The DC Designs F-15 Eagles are fully compliant with MSFS native materials and make use of the new simulator's features such as rain effects and sounds, fully reflective glass, native aerodynamic sound structures, the new 'Modern' aerodynamics system with the ability to provoke 'departure spins', and customised visibility controls for wheel chocks, covers, GPU and guard.
• The F-15 Eagles also contain custom-built and animated effects such as G-vapor, afterburners, and custom-modelled Head-Up Displays.
• Other features include authentic night lighting which includes user-operated 'slime lights' for combat operations and custom-coded air-intake animations based on aircraft airspeed and angle-of-attack.
• Numerous external animations including canopy, crew ladders, tail hook and control surfaces.
• The F-15 Eagles are also fully compliant with Virtual Reality headsets.