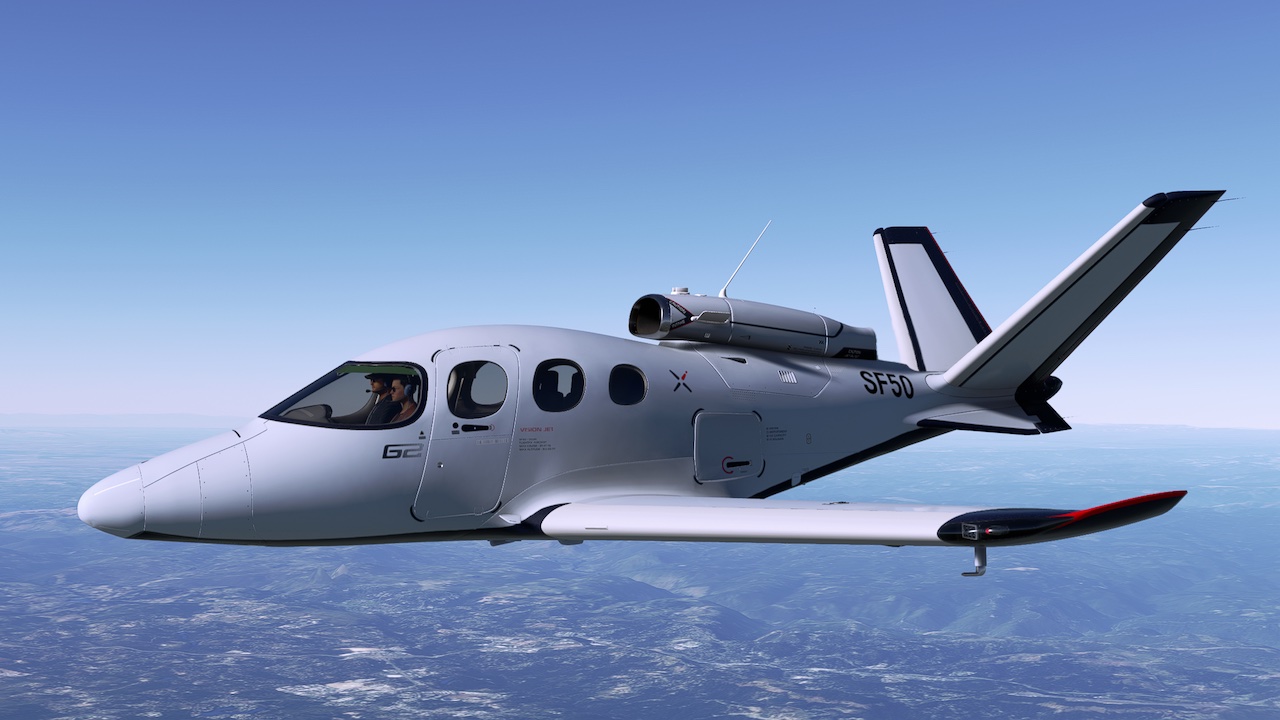 Changelog
v1.2.2:
– Added the wing flap inhibit system. When the aircraft is flying above flap speed limits, the aircraft will inhibit flap movement and display a CAS message
– Fixed Main Valve status display on the synoptics page
– Start flight on runway will now enable master oxygen, bleed air and probe heat by default
– Added Cirrus branding where appropriate
– Nose Gear adjustments to allow for better turning and animation
– Rescaled the center console in the executive configuration to closer match the real measurements

Description
Its Okay To Play Favorites
We invite you to throw on your Bose A20's and tour the virtual world of MSFS 2020 in an aircraft unlike any other. With a best-in-class panoramic cockpit, state-of-the-art electronics package, and all of the creature comforts one would expect from the world's first single-engine private jet, it's time to experience flight simulation in a whole new way.
Whether you are headed out on that next snowboarding trip to Whistler, a golf outing in Scotland, or just a family trip to Disney World, you'll be able to sit back and enjoy the massive 270-degree unobstructed view from the flight deck while cruising along at 31,000 feet.
If that's not your thing, you can enjoy all MSFS has to offer as you zip in and out of some of the most amazing small airports in the world. Either way, the SF-50 will be your new favorite.
SF50 Aircraft and Paint Kit Manuals for Microsoft Flight Simulator can be found here.
Features:
• Model tested by real world Vision Jet pilots
• A reworked and optimized navigation suite based off of the Working Title G3000 (included in package)
• Custom V.A.M.S. (Virtual Aircraft Management System) that controls all aspects of aircraft status
• Bose Active Noise Reduction system that can be activated right from the V.A.M.S
• Three different seating configurations that match its real-life counter part (Executive, Family and Complete)
• Custom-built Initialization Screen
• Custom G3000 integrated checklists
• Dynamic aircraft registration appears on placard, Primary Flight Display, aircraft storage cover, and chocks
• Radio frequency IDs built into the PFD
• Engine and Aircraft performance pages
• Accurate interior/exterior lighting design, including the iconic courtesy lights setup
• Accurate two-step start procedure synonymous to the Vision Jet
• Revamped fuel reporting system to mimic the real-life aircraft
• Selectable ground power unit with custom audio
• Interactive luggage and loading system with prepopulated weights and trip selections
• Custom emergency gear deployment system
• Integrated CAS messages and audio warnings