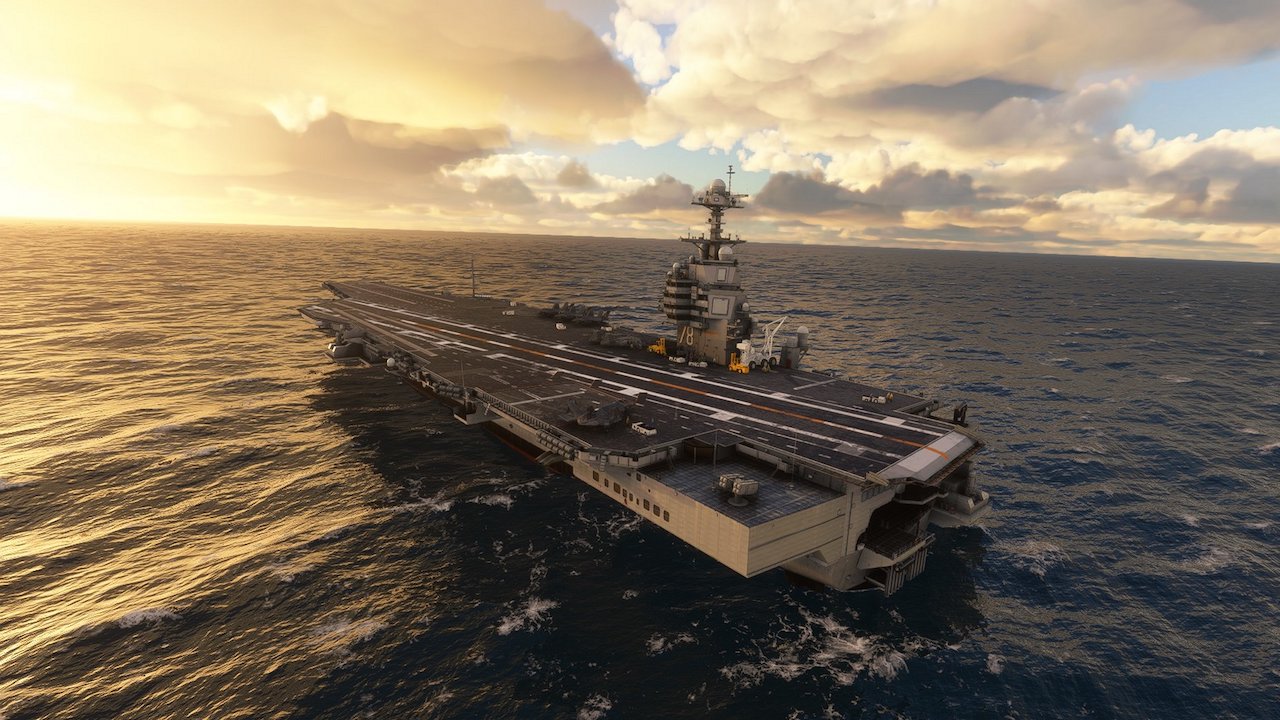 Changelog
v1.2.3:
– Fixed minor glitch in E-2C Hawkeye model
– Changed GUID for USS Ticonderoga, wheelchocks and towbar objects to avoid conflicts with other packages
– Fixed incorrect position light colors in F/A-18F model
– Adjusted glass tint for several aircrafts
– Added F-14A static model
– Added S-3B static model
– Added SH-3 static and flight model
– Added C-2A 4-blade prop model
– Swapped Nimitz and Ford dynamic locations in California
– Super Hornet:
– Added a Super Hornet variant with additional code for full carrier compatibility.
– The variant will appear as an additional livery.
– USS Ford-class:
– Fixed missing wheelchocks in several locations
– Added new location (C78G close to Israel)
– USS Nimitz-class:
– Added "vintage" flight deck (with Tomcats, Sea Kings and Vikings) at multiple locations
– "Vintage" flight deck locations:
– Libya (new location)
– Hawaii
– Added missing wheelchocks to SF location
– Fixed missing Fire Tractor on USS Eisenhower model

Description
This package contains static, landable objects for the Ford class ships and is primarily meant as companion of IndiaFoxtEcho F-35C and T-45C aircrafts for carrier recovery and launch operation..
The Gerald R. Ford class is a class of nuclear powered aircraft carriers currently being constructed for the United States Navy.
The class, with a planned total of ten ships, will replace the Navy's current carriers on a one-for-one basis, starting with the lead ship, Gerald R. Ford replacing Enterprise (CVN-65), and then eventually taking the place of the existing Nimitz-class carriers.
The new vessels have a hull similar to the Nimitz class, but introduce technologies since developed with the CVN(X)/CVN-21 program, such as the Electromagnetic Aircraft Launch System (EMALS), as well as other design features intended to improve efficiency and reduce operating costs, including sailing with smaller crews.
This class of aircraft carriers is named after former US President Gerald R. Ford.
The biggest visible difference from earlier supercarriers is the more aft location of the island (superstructure). The Gerald R. Ford-class carriers will have a reduced whole-life cost due in part to reduced crew size.
These ships are intended to sustain 160 sorties per day for 30-plus days, with a surge capability of 270 sorties per day.
IMPORTANT!
This package only contains only static landable objects.
Crash must be disabled to avoid potential collision detection issues. Landmarks point are provided, but there are no Navaids associated.
Flights cannot be started directly from the ships.
Due to the high detail, there may be a slight stuttering once the ship loads (approximately 10km from the ship).
AIRCRAFT LAUNCH AND RECOVERY FUNCTIONS MUST BE IMPLEMENTED AT AIRCRAFT LEVEL.
CARRIER IS COMPATIBLE WITH INDIAFOXTECHO T-45C GOSHAWK AND F-35C LIGHTNING II.
Ship Locations (note: all static ships have an associated ICAO airport code; See "Documentation\CVN78Manual.pdf" for more):
• USS NIMITZ CVN-68:
• Near San Francisco, California, US – ICAO CV68
• Near Honolulu, Hawaii, US (vintage F-14 deck) – ICAO C68H
• Mediterranean Sea (vintage F-14 deck) – ICAO C68M
• USS Eisenhower CVN-69:
• Arabic Gulf – ICAO C69G
• Mediterranean Sea – ICAO C69M
• USS Gerald R. Ford CVN-78:
• Near Kingsville, Texas, US (T-45C Goshawk Carrier Qualification Configuration) – ICAO C78Q
• Near Los Angeles, California, US – ICAO C78P
• Near Honolulu, Hawaii, US – ICAO C78H
• Mediterranean Sea, near Israel – ICAO C78G
• North Sea (between Norway and Denmark) – ICAO C78O
• USS John F. Kennedy CVN-79:
• Off the coast of the Olympic Peninsula, Washington, US – ICAO C78W
• Near Okinawa, Japan – ICAO C79J
• Near Norfolk, Virginia, US – ICAO C79V
• Adriatic Sea – ICAO C79A
• North of Key West, Florida, US- ICAO C79K
• USS Enterprise CVN-80:
• Near Sigonella NAS, Italy – ICAO C80S
• Arabic Gulf, near Bahrein – ICAO C78G
Dynamic Locations (note: Moving carriers move on a fixed direction for approximately 20 kilometers before inverting their direction. The POI indicate the starting location):
• CVN-78 Near San Diego – suggested starting airport Miramar MCAS (KNKX) Initial ship direction: North
• CVN-78 Near Pensacola NAS – suggested starting airport Pensacola NAS (KNPA) Initial ship direction: West
• CVN-78 Near Key West – suggested starting airport Key West NAS (KNQX) Initial ship direction: North
• CVN-78 Near Norfolk – suggested starting airport Oceana NAS (KNTU) Initial ship direction: North
• CVN-68 Near Point Mugu – suggested starting airport Key West NAS (KNQX) Initial ship direction: North
• CVN-68 Near Olympic Peninsula – suggested starting airport Whidbey Island NAS (KNUW) Initial ship direction: West
• CVN-69 Near Kitty Hawk – suggested starting airport Oceana NAS (KNTU) Initial ship direction: North