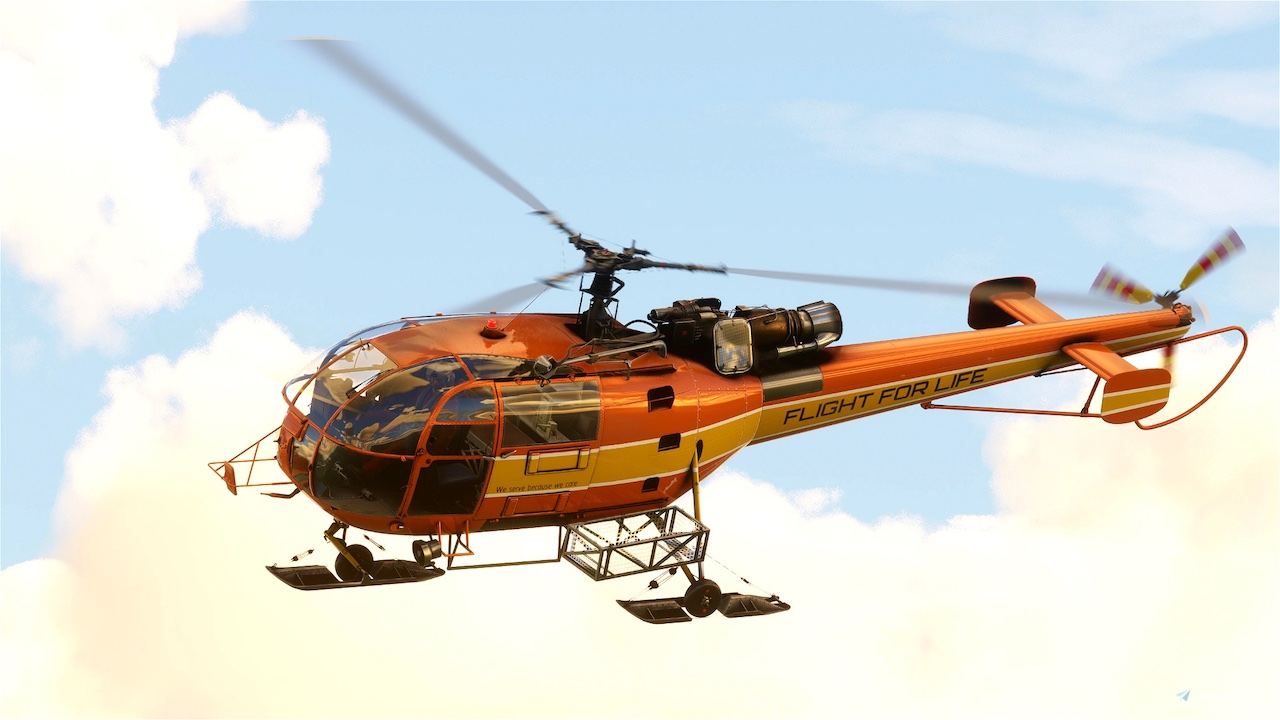 Changelog
v1.4.0:
– New: Interior textures-Panel-Overhead Panel-Seats-Floor-Cabin
– New: Exterior textures: Artouste engine fully retextured
– New: Highly detailed 3D model for the Astazou engine attachment
– New: Fully functionnal bambi bucket (see manual)
– New: Two more liveries added: ETI 2000 & Argentinian Armada
– New: Reworked sound package
– Fixed: You can now hear the turbine when opening the doors (while rotor is still not active)
– Fixed: Textures across the aircraft
– Fixed: Some animations
– Fixed: optimization of the package
– Fixed: LODS for the aircraft

Description
The legendary Alouette III helicopter is coming to Microsoft Flight Simulator 2020,
The Sud Aviation Alouette III is a single-engine, light utility helicopter designed and manufactured in France in the 1950s. It was initially developed for both civil and military purposes, and has since been widely used for a variety of missions including transportation of personnel and cargo, aerial reconnaissance, search and rescue, and even as a gunship.
The Alouette III has a distinctive sleek and slender profile, with a three blade main rotor and a tail rotor mounted on the starboard side of the tail boom. It has a spacious cabin that can accommodate up to seven passengers or up to 1,200 kg of cargo, and can operate in a wide range of environmental conditions and altitudes.
The helicopter is powered by a single Turbomeca Artouste IIIB turboshaft engine, which provides a maximum power output of 870 horsepower. It has a maximum speed of around 220 km/h (120 knots) and a range of up to 500 km (270 nautical miles).
The Alouette III has been widely exported to many countries around the world, and has been produced in various versions, including a naval version for use on ships. It has also been extensively used in military conflicts, including the Vietnam War and the Falklands War.
Overall, the Sud Aviation Alouette III is a highly versatile and reliable helicopter that has served in a wide range of missions for over six decades. Its simple yet rugged design and excellent performance characteristics have made it a popular choice for both civilian and military operators around the world.
Features:
• Detailed exterior model
• Detailed interior model
• Exclusive sound package
• Detailed animations of the different parts of the aircraft
• More than a dozen attachments options
• Detailed flight model
• Wheel and float versions
• 23 liveries