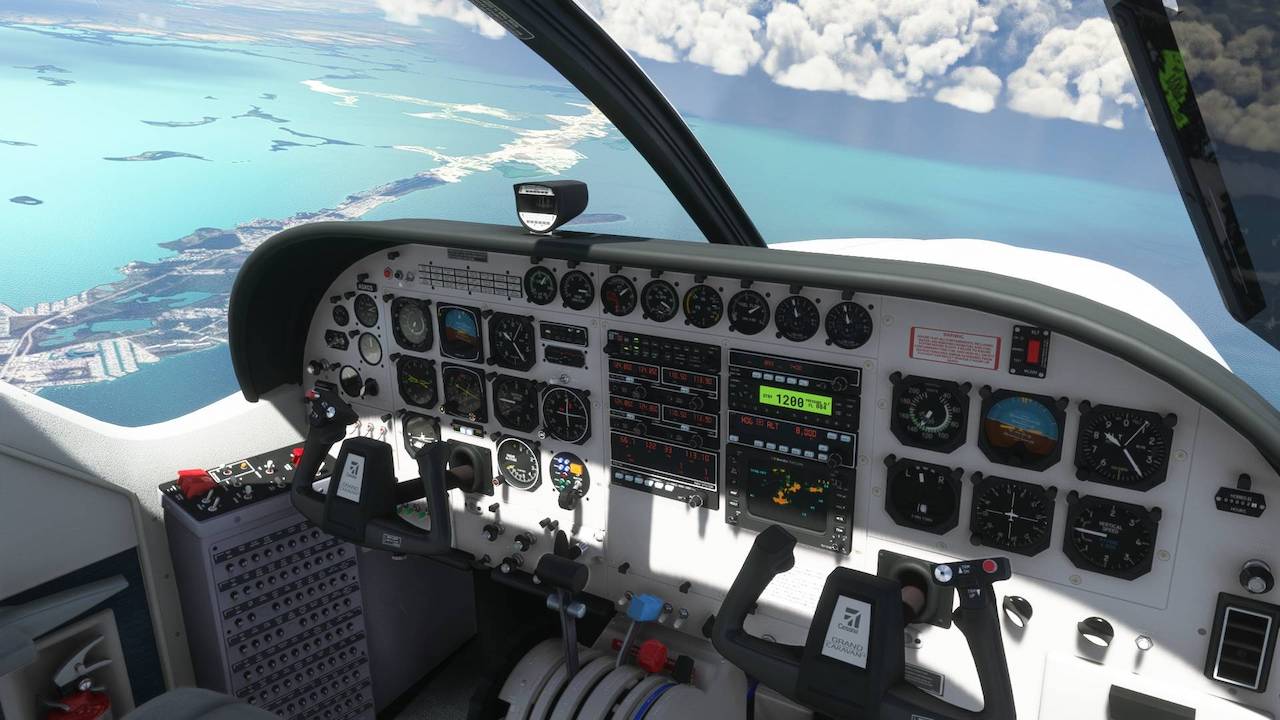 Info
Note: This product is an INTERIOR AND SYSTEMS OVERHAUL ONLY that makes use of the default MSFS Caravan exterior visual model. Improvements have been made to almost all aspects of the aircraft, except the visual appearance of the exterior. All default Caravan liveries are compatible with this product.
Changelog
v0.1.1:
– RANDOM & SCHEDULED FAILURE OPTIONS & MORE STATE SAVING ~ By popular request, 91 unique failures ranging from catastrophic engine failure to fuel leaks, and all electrical failures, can now be set, reset, toggled, and scheduled via a period accurate interface on the "MAP and "LOG" screens of the in-panel weather radar. Mean Time Between Failure (MTBF) can be set for each failure, saved between sessions, and accelerated up to 1024x real-time. Failures of nearly every on board system now force you to use in-game checklists for guidance. Engine condition is now viewable and repairable, and is saved between flights. Oxygen pressure is also now saved between flights and requires manual refill.
– Added Cabin Temperature Gauge and complete environmental control system. Cool things off by opening a window, or watch the airplane heat up in the sun. See manual for details on heat, A/C, and ventilation systems.
– Added Outside Air Temperature Gauge above windshield near pilots head upon request. OAT is also available on the transponder via the "FUNC" button.
– Inertial separator reduces torque by ~7% (125 ft-lbs at max Tq.)
– Cabin bleed air heat increases ITT
– Starter lag reduced, and new Ng calculation implemented.
– Revised KI-256 Attitude Indicator model upon request.
– Included some easily accessible L:Vars in AnalogCaravan.xml for cockpit builders and 3rd party product integration.
– Removed "simulator limitations" from the manual for "ITT should be more limiting at high altitude", and "Torque Bloom not simulated", as these have been added to the Black Square Turbine Dynamics Simulation.
– Bug Fixes:
– Significantly improved aerodynamics and performance, especially on takeoff. Engine performance more closely matches the PT6-114A (675 SHP). Takeoff distances tested with POH values. More realistic TAS in cruise. ITT and FF reduced to match real world performance samples.
– Turbine engine response to rapid power increase at low airspeeds improved.
– Reduced fuel flow spike when going from low to high idle.
– Opening storm window now affects sound attenuation.
– Autopilot annunciator lights no longer white, but amber, as they are incandescent.
– Radar Altimeter upper bounds reduced by ~500ft.
– KNS-80 labels tweaked.
– Added Propeller Governor Test to Checklist.
– Added Cabin Mixing Air operation to Checklist.
– Fixed NAV3 & NAV4 not working on SU10 Beta.
– Manual updated with all new features. Now over 70 pages!

Description
Black Square's Analog Caravan brings you a completely new interior and panel for the default MSFS Grand Caravan, featuring analog instrumentation (steam gauges), swappable radio configurations and an overhauled electrical system with every circuit breaker, bus, meter, switch, and knob functioning. Users will find increased detail on the instrument panel and electrical panels when compared to default aircraft, and a similar level of detail in the cabin.
The panel of the aircraft contains only fully 3D gauges, modelled and coded to meticulously match their real world counterparts, with reference to real-world maintenance and installation manuals. No piece of equipment appears in a Black Square aircraft without a real-world unit as reference.
Radio and navigation systems are available from several eras of the Caravan's history, so users can fly without GPS via an original Bendix KNS-80 RNAV system, or with the convenience of a Garmin GTN 750 (PMS50 or TDS). Other swappable radio equipment in this aircraft includes KX-155 NAV/COM radios, GNS 530, GNS 430, KR 87 ADF, KDI 572 DME, GTX 327 Transponder, KAP 140 Autopilot, and a Bendix RDR1150XL Colour Weather Radar.
A 60-page manual provides instruction on all installed equipment, and 30 in-game checklists with control/instrument highlighting are included for normal and emergency procedures.
Primarily analog instrumentation augmented with modern radio navigation equipment is still the most common aircraft panel configuration in the world. Challenge your piloting skills by flying IFR to minimums with a fully analog panel and no GPS. You'll be amazed at the level of skill and proficiency you can achieve to conquer such adversity, and how it will translate to all your other flying. You also may find the analog instrumentation much easier to read with the limited number of pixels available on a computer monitor, and even more so in VR.