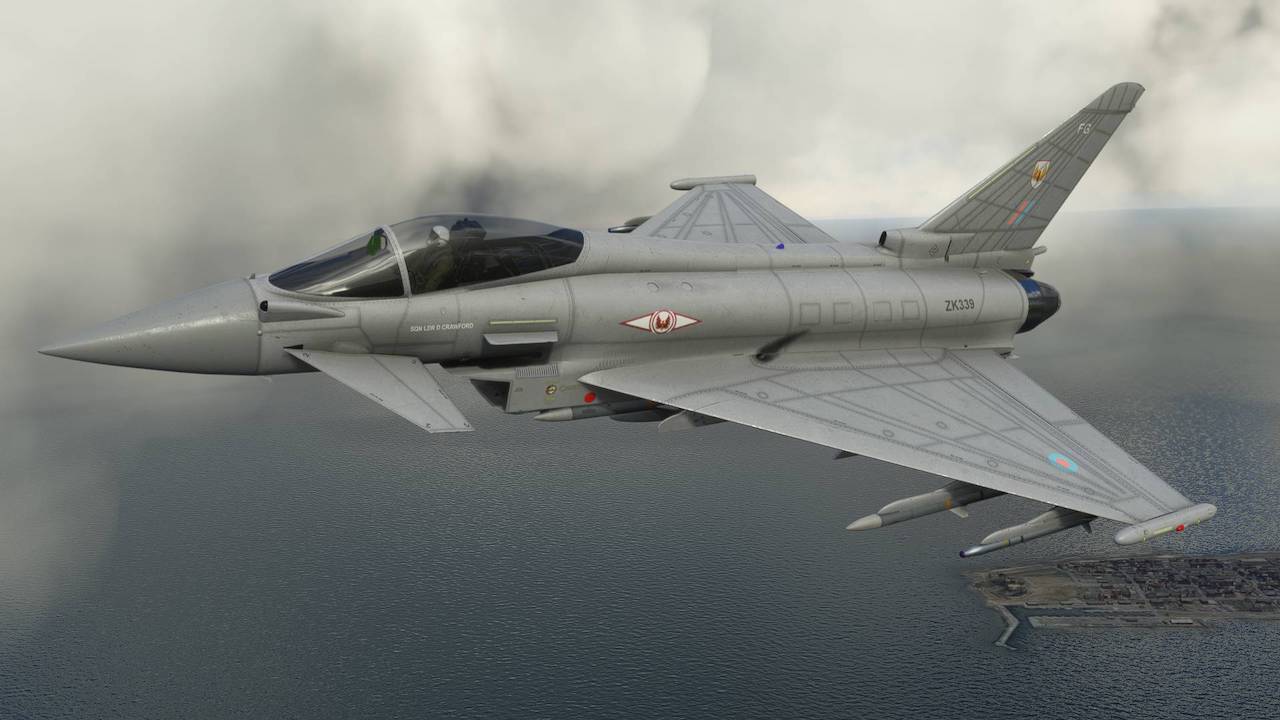 Changelog
v0.1.9:
– General improvement of textures (including liveries) as well as increase in 3D model's geometry.
– Improved general handling in FBW as well as autopilot behaviour.
– Flight model's revision.
– Transition between FBW load mode and direct mode at 185 knots has been removed (since many users reported losing control at this airspeed), so now the transition is linked directly to landing gear deployment/retraction. However, needs to be warned that the loss of control occurs due to a PiD controller's reset hardcoded in the SIM, causing a control delay by user's inputs, therefore, since this transition/reset cannot be avoided, whenever the intention is to land, it is preferable to deploy the landing gear above 200 knots (where the control loss is barely noticeable) than below that airspeed (especially if the angle of attack is very high or the plane is banked more than necessary).
– Reedited the size of the HUD content (many users reported that it was poorly readable on small monitors), as well as the HMD, ADI and Elev.
– The crew visibility switch function has been eliminated (for now…), in order to leave the pilot's visibility associated with the external camera.
– All Autopilot logic has been rewritten:
– ALT HOLD and ALT SELECTED functions have been splitted between ALT and CLM buttons respectively.
– During CLM (Climb), a distinction should be made between AUTO, VS and FPA modes. While VS and FPA are well known, AUTO will regulate the Vertical speed based on Airspeed and target altitude. This means that at lower airspeed for example, the climb rate will decrease to avoid the risk of stalling. Likewise, the vertical speed will tend to zero as the target altitude is reached. CLM will not transition to ALT once the target altitude is reached, however it will stabilize the aircraft in the same way as ALT HOLD (this prevents the user from pressing CLM again if wish to make corrections).
– The HDG and TRK modes work as usual, however modifying the heading with the stick will cancel these modes and will change to roll until the user stabilizes the airplane again to re-engage.

Description
CJ Simulations are proud to announce their first aircraft collection for Microsoft Flight Simulator – the Eurofighter Typhoon!
Fully native MSFS aircraft
The Typhoon has been coded with Microsoft Flight Simulator native 'Model Behaviors' animations and built to MSFS operational specifications to minimise issues with future simulator upgrades.
The CJ Simulations Typhoon is fully compliant with MSFS native materials and makes use of the new simulator's features such as rain effects and sounds, fully reflective glass, native aerodynamic sound structures, the new 'Modern' aerodynamics system and customised visibility controls for wheel chocks and covers.
Other features include authentic night lighting which includes user-operated 'slime lights' for combat operations and custom-coded animations for flaperons and slats based on aircraft airspeed and angle of attack.
Numerous external animations include canopy, crew ladder, tail hook and all control surfaces, along with a customised delta and canard flight model based on real-world data for the Typhoon.
The Typhoon is also fully compliant with Virtual Reality headsets.
Cockpit:
• Truly 3D virtual cockpit featuring accurately modelled ejection seat, controls and detailed texturing
• Instruments constructed in 3D with smooth animations
• Custom-coded MFD screens and Head-Up Display to match the real Typhoon's displays
• 'Scratched canopy' glass effects and reflective glass
• Crew figure in the virtual cockpit is coded to disappear when you occupy their seat