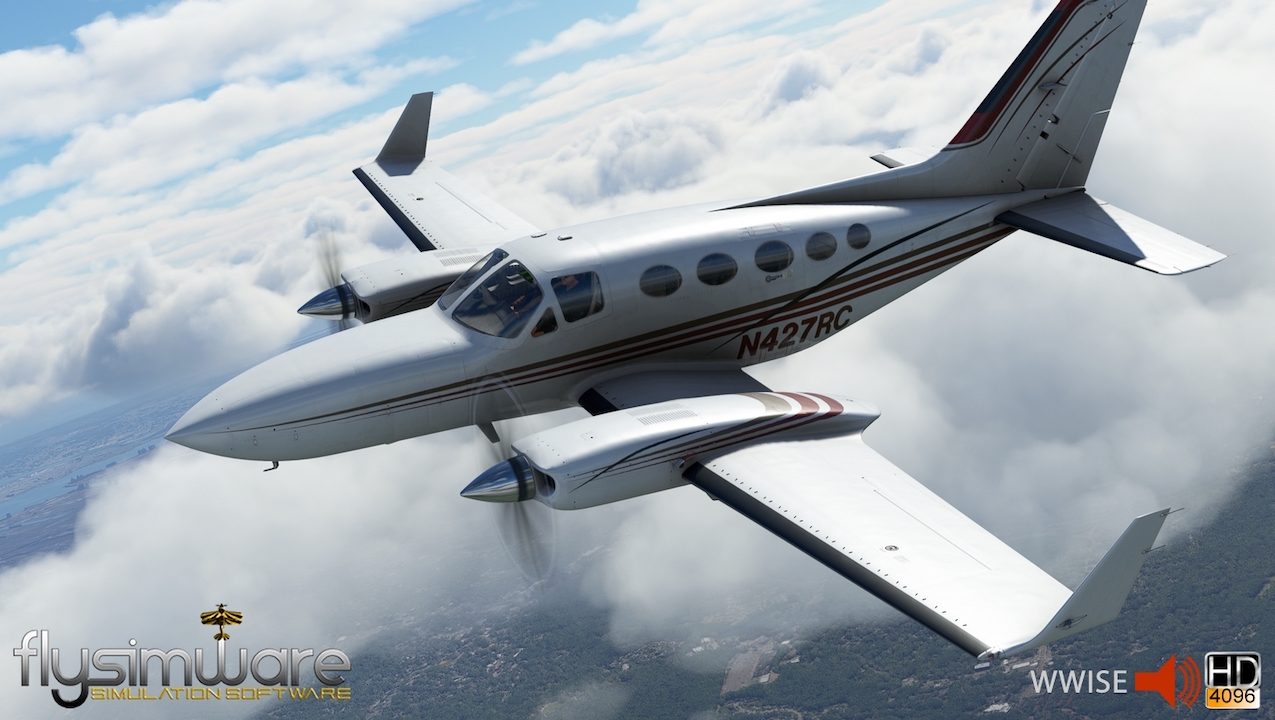 Changelog
v2.1.0:
– HSI nav flag is now updated to work anytime there is a active nav signal.
– VOR2 gauge will no longer be active for nav 2 when in gps mode. Needle animation speed is slower.
– There were duplicate labels on the new digital alerter.
– The digital alerter value is now aligned correctly to the background card.
– The DME now has a decimal for under 100NM out. Some VOR's in the sim have long range up to 130NM out.
– Tablet page 3 now shows the page name at the bottom.
– NOTE: Do not use the sims autostart as the default events will be active and our custom code will not be in sync and will prevent some custom events from being the right value. For example like both engines feeding from the left tank.
v2.0.0:
– New detailed Interior & Exterior 4K textures. Major update from 3DReach!
– Primer is required now.
– DME starts with power on when avionics is powered on. Also included in the save state.
– Several tooltips updated.
– Alerter tone is now working.
– Aircon and heater sound now requires battery.
– Ground radar gauge moved up to empty slot for the GTN 750 panels.
– Cowl flaps handle and door now work on the default hardware and the position is now correct.

Description
Welcome to Flysimware's Cessna 414AW Chancellor for Microsoft Flight simulator. Flysimware has modeled this vintage aircraft using every feature the new sim offers giving you the user the best experience for a realistic simulation. From a interactive copilot, highly accurate gauges to realistic flight dynamics.
Flysimware's tech pilot owns this Cessna 414AW Chancellor with a RAM IV conversion and winglets which allowed Flysimware to have direct access to the real bird. In return this gives you a highly accurate model with extreme attention to detail as Flysimware took hundreds of images, measurements and recorded sounds over a 2 year period.
The Cessna 414 is an American light, pressurized, twin-engine transport aircraft built by Cessna. It first flew in 1968 and an improved variant was introduced from 1978 as the 414A Chancellor.
The pressurized 414 was developed to appeal to owners of unpressurized, twin-engined aircraft, and was based on the fuselage of the Cessna 421 and used the wing design of the Cessna 401. The 414 is a low-wing cantilever monoplane with a conventional tail unit and a retractable tricycle landing gear. It is powered by two wing-mounted 310 hp Continental TSIO-520-J horizontally opposed, six-cylinder engines. The Chancellor has a maximum speed of 270 mph, a climb rate of 1,700 feet per minute, and a ceiling of 30,000 feet with a range 1,528 miles.
The prototype first flew on 1 November 1968, and production aircraft were available in a number of optional seating arrangements and avionics packages. The name Chancellor was used for models marketed from 1976. An improved variant the Cessna 414A Chancellor was introduced in 1978 with the major change being a redesigned and increased-span wing with integral fuel tanks and an extended nose to give more baggage space.
Features:
• Real World operational
• Over 100 dynamic light effects
• Realistic flight dynamics
• 4K full PBR textures (Created by 3DReach)
• Interactive environment sounds
• Over 70 recorded sounds from the actual aircraft
• All sounds produced using the game industry standard Wwise software
• (PANEL 1 )Garmin GTX327 / GMA 340 / GNS 530 / ADF C1046A / DME C1077B / COM 2 C1038A / NAV 2 RN-1079A
• (PANEL 2) 605 Autopilot / RT859 Transponder / GTN 750Xi (Requires you own TDS GTN750Xi for MSFS)
• (PANEL 3) 605 Autopilot / RT859 Transponder / GTN 750 (Requires you own PMS50 GTN750 for MSFS)
• Includes a Cessna RN-1079A NAV 2 RNAV radio (RNAV not simulated)
• Includes a Davtron M811B clock
• Includes a fuel computer CFS 2000A
• Includes a High quality pilot and copilot
• Windshield rain effects
• Exterior icing effects
• Parking mode includes Chocks, Tie Downs, Engine Plugs, Static wick covers and pitot tube covers
• Includes Ground Power Unit
• Adjusting payload loads and unloads luggage and extra seating
• Engine cooling sound effects (Window position changes volume of engine sounds)
• Full exterior walk around checklist with custom camera views
• Custom coded checklist with interactive copilot
• The radar is not simulated…
Model Variation:
• Cessna 414AW Chancellor with a RAM IV conversion and winglets
Paint Themes:
• N5AM – Civilian
• N100JD – Civilian
• N414XX – Civilian
• N427RC – Civilian