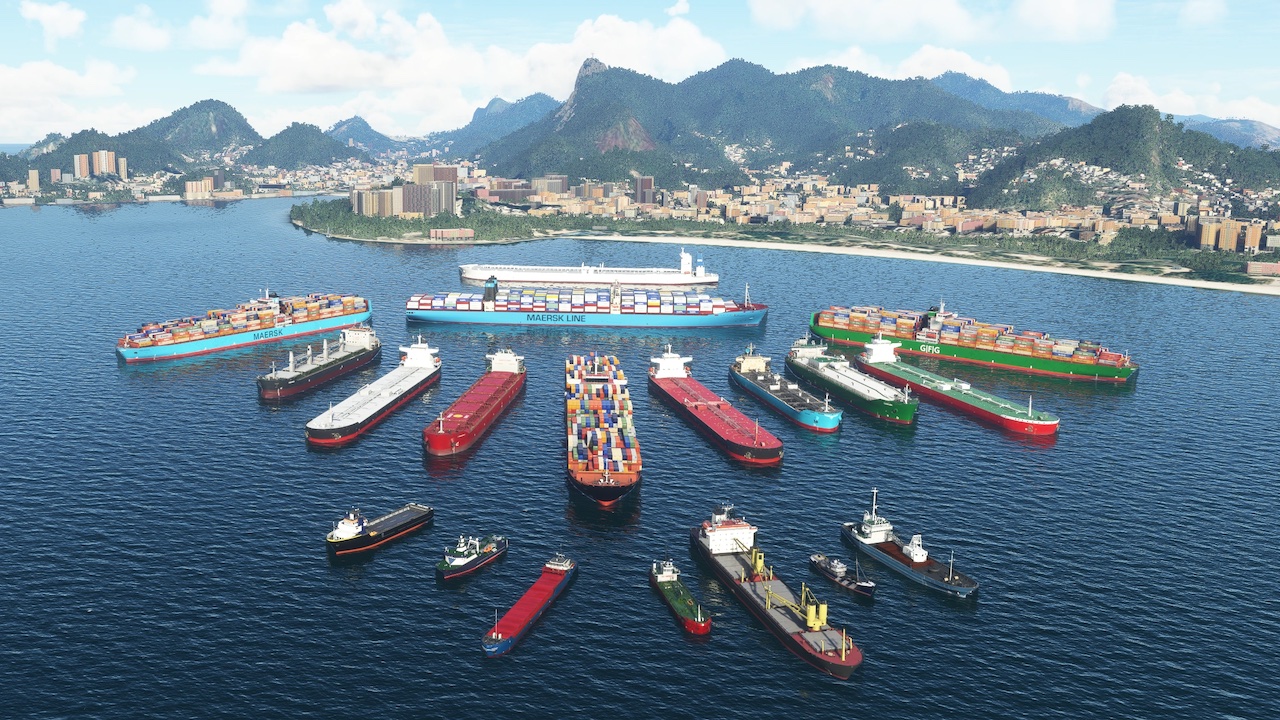 Changelog
v2.0.0:
– More Traffic with more than double the amount of ships in the water
– More than double the routes, with new destinations and extra traffic to/from existing locations
– Updated Ship and Ferry Traffic Setting Requirements:
– Setting of 5% = 50% of traffic will appear
– Setting of 10% or above = 100% of traffic will appear
– This is for greater compatibility with Xbox and other addons.
v1.6.0:
– Removed Dependency on installation of Vessels: Enhanced AI
– Added Dependency on the free Vessels Core Library (model library)
– Xbox Compatibility
v1.4.0:
– Reworked models to workaround a VFX bug in SU6
– Adds 8 more models for 27 total (more are coming. This is an interim release primarily aimed at working) around the current wake bug in SU6.
v1.2.6:
– Fixes and balancing to many schedules to reduce loiter time.
– Added many shorter routes.
– Added the 7 new models + 2 variants

Description
Global Shipping introduces tens of thousands of ships into the seas and shipping lanes of Microsoft Flight Simulator. Featuring a range of high quality container, oil, gas, livestock, utility and trawler models, these ships travel between ports and along coasts around the world using real-world (note: not real-time) Automated Identification System (AIS) data. Each ship benefits from wakes and night lighting effects including navigation lighting. Bring Microsoft Flight Simulator's seas to life!
Tips:
• Set Ship and Ferry Traffic to 10% or more for the best results.
• Set Ground Wind Speed to 3 knots or above for the best wake effects.
• See more here: https://seafrontsims.com/installation
Features:
• Focused on filling the seas with cargo traffic
• Uses high quality, PBR vessels included in Enhanced AI (sold separately)
• Navigation and night lighting as standard
• Optimised with multiple LODs
• 27 container, utility, oil, gas tanker and trawler models (with more coming in future updates)
• Adds tens of thousands of real-world routes based on Automatic Identification System (AIS) data with even more routes coming in future updates
• Visible at high altitude 30,000ft+
• Includes wakes!