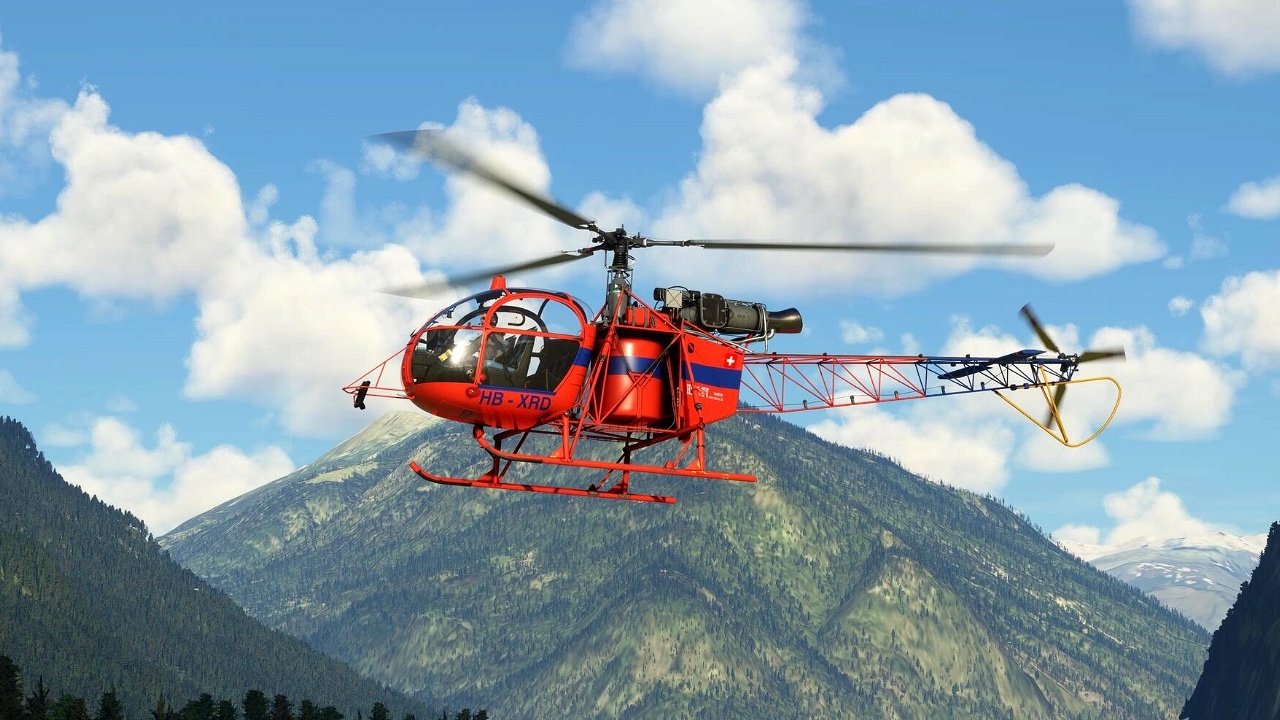 Changelog
v1.1.0:
– Flight Model updates:
– The goal was to smooth out certain behaviors of the V1.0 and listen to the feedback of real Lama pilots, who kindly stepped forward after the release, to give me their feelings. Here are the main changes
– More stable forward flight above 50knts
– Easier to achieve cruising speed
– Hover sensibility slightly reduced
– Added:
– Camera attachment
– Various 3D models around the cabin
– Fixed:
– Altimeter QNH Strip now works
– Fuel booster pump now cannot be activated if the battery isn't on
– Fixes to the rotorhead 3d model (butée basses are now as they should be)
– Some warning lights lights that were always on are now off by default
– Pitch indicator goes above 1 as it should IRL
– Glass dirt texture is now less strong
– Texture modifications of certain objects
– Side note: The FM from V1 is still available as a swap option for users that would like to keep it, see "FLIGHT MODEL V1 (DEPRECATED)"

Description
The legendary Lama SA315B helicopter is coming to Microsoft Flight Simulator 2020,
The Lama SA315B Helicopter Addon for Microsoft Flight Simulator (MSFS) is a meticulously crafted representation of the iconic helicopter, following in the lineage of the Alouette 3. This addon offers an unparalleled experience for MSFS enthusiasts, featuring a highly detailed exterior model that showcases the helicopter's unique design and aerodynamic structure.
Inside the cockpit, users will find an equally detailed interior model, complete with authentic instruments and controls, providing a true-to-life piloting experience. The addon is further enhanced by an exclusive sound package, from the real helicopter to provide an immersive audio experience that complements the visual fidelity.
Attention to detail will be evident in the detailed animations of various parts of the aircraft, bringing to life the rotor blades, and other key components with realistic movement and functionality. This addon goes beyond the standard offering by including way more than a dozen attachment options, allowing users to customize the helicopter for various missions and preferences.
The detailed flight model is another highlight, providing a realistic and responsive flying experience that accurately reflects the unique characteristics of the Lama SA315B. A complementary flight model is also available for beginners.
To top it all off, the addon includes a diverse selection of 30 liveries, each meticulously designed to offer a range of aesthetic choices for personalization. Whether flying for leisure or practicing specific flight maneuvers, the Lama SA315B addon for MSFS is an essential addition for any virtual pilot seeking authenticity, detail, and versatility in their flight simulation experience.
Features:
• Detailed exterior model
• Detailed interior model
• Exclusive sound package
• Detailed animations of the different parts of the aircraft
• More than a dozen attachments options
• Detailed flight model
• Working Wheels
• 30 liveries