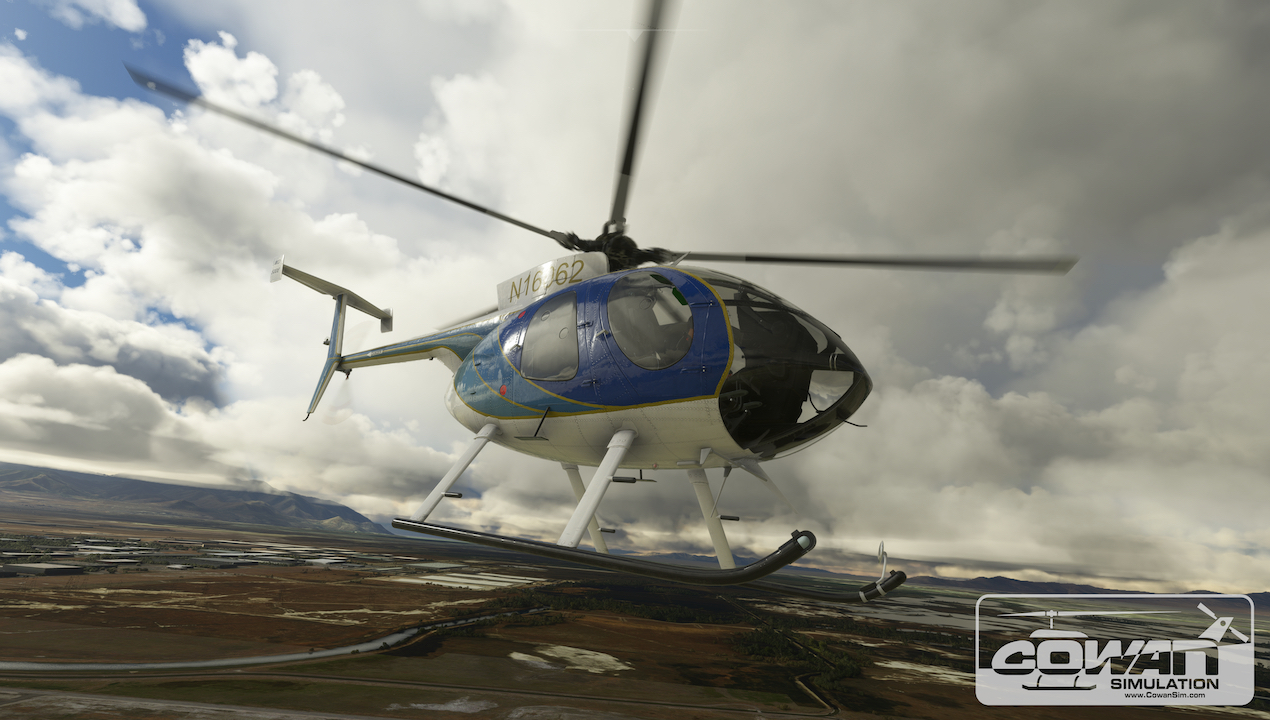 Changelog
v1.0.1:
– Flight Model:
– Fixed some issues with the flight model according to feedback from pilots. The helicopter still flies with a slight low left skid. This is normal for hovering and slower flight but at speed things should level out. We will be working more with the flight model in the future.
– Trim Ball:
– The trim ball is better but still not quite optimized for helicopters when using the correct code.
– Emergency Fuel Cutoff:
– The red emergency fuel cutoff valve code was fixed. There was a bug with wrong values. Now that should work properly. Pushed in is open and pulled out is closed.
– Modeling:
– Some modeling adjustments were made like the air intake tube in the nose and other small details changed or fixed.
– Ignition key:
– The ignition key needs to be on to run the starter now. Hopefully this does not trip anyone up. 🙂
– Lighting:
– The two cabin light switches and the lighting attached was changed. Now one is red and one is white and they are not so bright so you can use them at night. All the other lighting was gone through and optimized. Added some ambient light from the green panel lights. Fixed the skid nav lights with flex.
– Skid occlusion:
– Added some occluders to the skids and new bear paws so the grass lays/smashes down when off pavement.
– Effects Buttons:
– The two buttons above the cabin light toggles are now tied to rotor wash and engine heat blur effects. Pushing them will disable either respectively.
– Added Liveries:
– 15 new liveries were added to the package to make a total of 63 available. Thank you Chrigel Linder for your contribution to this project.
– Bear Paws added
– Turned around the backward bench so the worker is on the left.
– Added down wash effects
– Added more sounds and adjusted the levels to Asobo standards.
– Several minor bugs fixed and details added overall.

Description
There is a start up checklist located in the main folder to get you going from cold and dark start. You can also access options, like the passengers and more, from the weight and balance window.
Due to limitations of the sim right now, you will have to use a mouse or VR controller for the throttle. Hardware bindings will be updated by Asobo and we will implement the code in an update after that. There is also a bug with the turn coordinator ball but that will be fixed soon.
Features:
• Detailed Paint Kit
• Tested and Zeroed in by Real Pilots
• Realistic start up procedure
• Pilots & Passengers
• Floats
• 48 Paint Jobs (liveries)
• Dynamic Weight Options
• Spot Light (will be functional in a later update)
• Spray Kit (will be functional in a later update)
• Cineflex Camera (will be functional in a later update)
• Wwsie Fully Dynamic Sound Pack
• Virtual Reality Ready
• Realistic Flight Dynamics
• 4K PBR Textures
• Custom 3D instruments
• Detailed Night Lighting