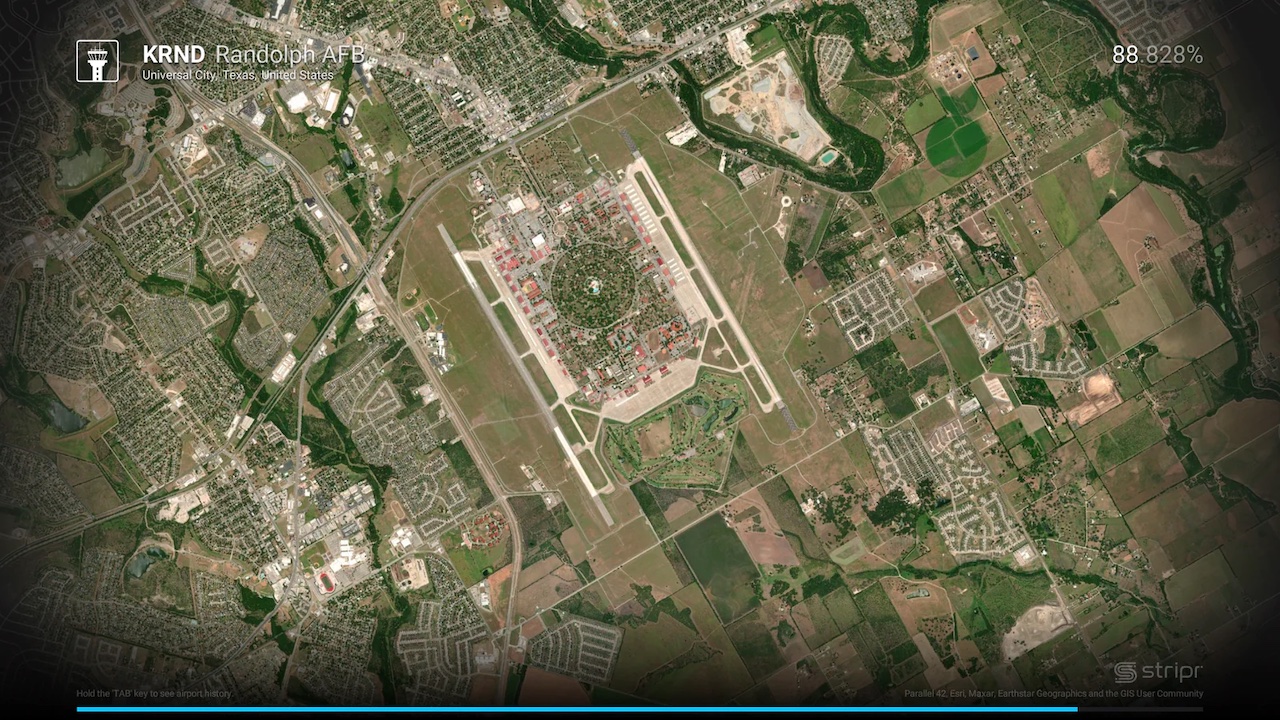 Changelog
v1.0.2.0:
– Increased "time on screen" per strip
– Reworded the entire Bonus Tools section
– Included notes under Bonus Tools options
– Updated default configuration – "Enable Cinematic Zoom" OFF by default – "Loading progress %" OFF by default
– Bonus Tools all OFF by default

Description
A Loading Screen Replacement Utility
Are you tired of staring at dull, static images while waiting for Microsoft Flight Simulator 2020 to load? Time to sit back and enjoy the show.
Eliminate loading screen anxiety and welcome a more pleasant visual experience with Stripr! Our innovative application is designed to transform your loading screen into a captivating journey of discovery right from the moment you launch the simulator.
Stripr is built to cater to all users, whether you've purchased MSFS from Steam or the Microsoft Store. The Windows-based configurator offers easy installation, simple configuration, and seamless integration, making it a must-have addition for every aviation enthusiast.
Transform your loading screens into a stress-free experience and open up a world of captivating visuals with Stripr.
Features:
• Reduce Loading Screen Anxiety: Say goodbye to the frustration of wondering if Microsoft Flight Simulator has locked up during loading. Stripr provides a smooth and uninterrupted loading experience, ensuring you stay engaged and excited about your upcoming flight
• Cinematic Zoom: Cinematic Zoom is an option you can enable in settings. It provides a moving experience! (Pun intended.)
• Discover the World: Immerse yourself in the beauty of satellite imagery as Stripr unveils stunning visuals on your loading screen. Every time you launch the simulator, you'll be greeted by beautiful splashes of color, randomly selected by your criteria, offering a tantalizing glimpse into the diverse landscapes waiting to be explored
• Choose your views: Influence the airports you will see by selecting airports of a certain size or airports from a particular country. Stripr puts you in control, allowing you to curate a loading experience that matches your preferences and inspires your next flight adventure
• More Accurate Loading %'s: The whole number approach to the default loading screen all too often leaves you wondering whether or not something is happening. Stripr displays progress in the thousandths place! 56% -> 56.032%
• Seamless SimBrief Integration: For those who utilize SimBrief for flight planning, Stripr offers integration that displays your route as you load into the starting airport
• View Airport History: Miss an ICAO? Hold down the TAB key while loading in, and Stripr will display a list of previously displayed airports
• Bonus Tools: Stripr enabled us to further strip down the sim and deliver some really great bonus features
• Skip MSFS Intros: Allows you to skip annoying intro branding trailers (asobo/blackshark/etc) for a faster sim launch
• Suppress Popups: Allows you to suppress network disconnect, low bandwidth popups & more
• Update Later: Allows you to temporarily bypass a sim update by hitting [CONTINUE]. Nothing is worse than being prompted to download a massive update when you just wanted to enjoy a quick flight! Don't worry, It'll ask you again next time